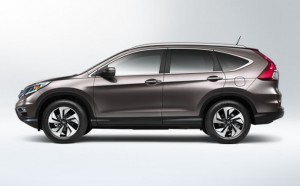 The 2015 Honda CR-V Available in Everett is one of Honda's successful SUV solutions for 2015. A fresh exterior, a cushier interior, and a brand-new powertrain all bring a higher level of quality to the table, continuing Honda's trend of constantly improving its options and giving the customers what they want.
Looking at the Outside of the Honda CR-V
On the outside, the 2015 Honda CR-V Available in Everett sports a smoother, updated look, with a modern take to it that definitely matches the improvements Honda has made. The engine is a 2.4-liter four-cylinder engine, offering up a satisfying 185 horsepower. The transmission is a CVT (Continually Varying Transmission), which many consumers have lauded as a great innovation, and which definitely works well for the CR-V. Improved mileage and better handling is just one of the benefits of this type of transmission, which, alongside the CR-V's trusty suspension model and newly-updated brakes, makes for a car that's responsive while maintaining power. An 11% increase in torque from its predecessor (181 lb-ft at 3900 rpm) will make anyone happy.
Inside the Spacious CR-V
The 2015 Honda CR-V Available in Everett is, like any SUV, up to the challenge of hauling passengers and cargo around. Its cabin has a lot of space and plenty of cargo area, including seats that fold down to create as much room as you need. The interior, with its soft-touch features, also has advanced noise-cancelling technology for 2015. The hum of the engine won't interrupt your road trip, and the safety features will keep you feeling secure. Blind-spot monitoring software can make lane changes easier, and other safety tech is available in higher trims.
With a choice of front-wheel drive and all-wheel drive, the 2015 Honda CR-V Available in Everett meets all expectations and desires that consumers may have of an SUV its size. you'll find that the updates to the car's features, as well as the technological upgrades, all make the new year's CR-V another excellent small-sized SUV. Choose from a variety of trims, including a touring trim.
Klein Honda of Everett is a family-friendly car dealership offering Honda vehicles of all models, available for customers from all financial situations. Schedule an appointment to view our inventory or test drive a new or used Honda. Our sales department is reachable at 855-283-0980, and will consult with you on the perfect Honda for your needs. Visit our website to find out more!