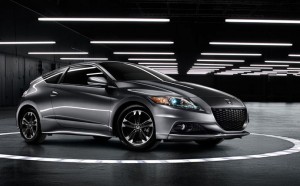 As one of the best if not the absolute best compact SUVs you can buy, the 2015 Honda CR-V easily leaves its competition in the dust. A spacious cabin, excellent fuel economy, and a long list of standard features are just some of the things that make the CR-V so great this year. Add in the fact that Honda cars are some of the best in terms of long-term ownership costs and resell value, and you'll find that finding 2015 Honda CR-V Financing Available in Everett is the best thing you can do for yourself and your family.
2015 Honda CR-V Safety and Features
Honda knows what's important when it comes to a family car, and the Honda CR-V's safety ratings show it. The Insurance Institute for Highway Safety has dubbed the CR-V a Top Safety Pick, and the NHTSA's rating isn't far from agreement. Brake assist, traction and stability control, and several other safety features help to make the Honda CR-V one of the safest crossovers. 2015 Honda CR-V Financing Available in Everett can also factor in additional safety features, though many, such as forward collision warning and a collision-mitigating braking system, are standard.
If you want a car with features, the CR-V is a perfect pick. Bluetooth, USB, and Pandora integration are all available standard, as is a power moonroof, a seven-inch touchscreen, and dual-zone automatic climate control. Upgrades can be discussed when looking for 2015 Honda CR-V Financing Available in Everett, as well. A total of 70.9 cubic feet of cargo space when rear seats are folded (and 35.2 when not) means that the 2015 CR-V has some of the largest cargo space in the segment. A storage bin in the center console makes enough room to put a large purse or a bag.
2015 Honda CR-V Financing Available in Everett
2015 Honda CR-V Financing Available in Everett has many different options, all favorable if you know the right place to look. Whether you're planning to buy or lease the CR-V, it's impossible to deny that this particular crossover is a masterful piece of engineering. Our financing options available to you are the best around. The advantages about financing include help build or establish your credit as well as not having to break the bank. Plus, the vehicle would be yours after everything is said and done.
Call Klein Honda of Everett at 855-283-0980, or go to our website and fill out a credit application. Other features include getting an ePrice quote on a new Honda, or getting a trade-in quote for your old automobile. Klein Honda makes buying and selling your car easy. You can also come see us in Everett, WA off of Evergreen Way to take a look at the CR-V yourself.