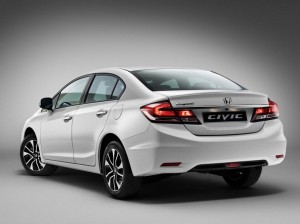 In March of 2016, the long-awaited 2016 Honda Civic Debut in Everett will take place: while the all-new Sedan already praised when it was introduced, a Civic Coupe, similar to the concept revealed at the New York Auto Show, was what buyers were really craving. A fastback roofline, overarching taillight, and an impeccably-styled front end makes the Civic Coupe look more active and bold from the side.
Design of the 2016 Honda Civic
Completely redesigned from the ground up, the 2016 Honda Civic Debut in Everett will see a car that's an even sportier iteration of the already-lively 2016 Civic sedan. The Civic Sedan's cabin was improved this year, making for a more quiet and spacious experience. The Civic Coupe will have a longer wheelbase, wider body, wider stance, and lower seating position than its Sedan version; a truly sporty variant. If anyone was worried about the space in the Coupe, they shouldn't be. The Coupe will have 8.4 additional cubic feet of space and five more inches of leg room as opposed to its predecessor.
We've already had a taste of what's coming in March with the tenth-generation Civic sedan. The base engine is expected to be a naturally aspirated 2.0L four cylinder engine, while a turbocharged 1.5L is available for more power and more efficiency (particularly notable since it's the first turbocharged engine for the Civic Coupe). A continuously variable transmission will be available, alongside a standard manual for the 2.0L model. A Civic 5-door hatchback, the first one ever made, will be available for the U.S. market, and the Civic Si and Civic Type-R will also debut shorty thereafter.
Features in the 2016 Honda Civic Debut in Everett
People hoping for more features to be revealed in the 2016 Honda Civic Debut in Everett will not be disappointed: even the standard Coupe will be well-equipped, with the latest in audio and connectivity. An available new Android OSbased 7-inch display Audio touch screen interface will likely make waves, and streaming audio options will include Pandora, SiriusXM, and HD Radio. Full compatibility with both Android Audio and Apple CarPlay platforms will mean that customers who use both systems will be satisfied; meanwhile, a brand-new Honda Satellite-Linked Navigation System has been developed for the Spring debut.
Find out more about the 2016 Honda Civic Debut in Everett by contacting the experts at Klein Honda. Call us at 855-283-0980 for any questions, or look at our specials to find savings that are right for you. You can also pre-order your Civic with us soon so when March 2016 hits, you will have the perfect vehicle waiting. We guarantee that we'll find the best financing for your purchase of the new 2016 Honda Civic Coupe.