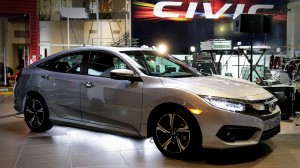 2016 Honda Leasing Available in Everett is a way to essentially rent a brand-new car for a long time; you sign an agreement, and for two years—and a certain number of miles—the car is yours. Leased cars are restricted by how many miles they can drive every year, though more can be purchased at the end of the lease. Discuss leasing with your dealer, and find out more about fees, interest, and more.
Leasing a New 2016 Honda in Everett
Buying versus leasing is a hot topic, and, frankly, a question everyone who's looking at a new car should take into consideration. Someone who enjoys the feeling of driving a new car so much that they want to trade in every few years might be better off leasing instead of buying. When you first drive a car off a lot, it immediately begins to depreciate; that is, its value begins to drop rapidly. When it comes time to trade in that car for a new one a few years down the line, you won't get as much for it, and the cycle will begin again. When leasing, you only pay for a portion of the car—it's much less expensive than paying off a new car loan every few years.
If you can keep track of how many miles you drive, you should look into 2016 Honda Leasing Available in Everett.
2016 Honda Civic Leasing Available in Everett
The Honda Civic is one of Honda's most popular cars, a compact that still has a sporty, engaging feel to it. The 2016 Civic will be powered by a 1.5-liter VTEC Turbo-engine. A sleek body style and boomerang-style taillights will give the tenth-generation Civic an even more aggressive, bold look. Honda will debut the new Civic with the sedan version, and then follow up with the Coupe, the Si a 5-door model, and the new Honda Civic Type R, which will exemplify a more sport-oriented design. Once the newest Civic is available for 2016 Honda Leasing Available in Everett, its popularity is sure to continue growing.
Klein Honda of Everett offers leasing, financing, and mechanical services to all Honda vehicles. We make it easy to either buy used or lease brand new. Call us at 855-283-0980 to get more information, or find financing by applying for pre-approval directly on our website. We're available to answer all of your questions.
© Copyright Content Motive, 2015.
All Rights Reserved. | Content marketing by Content Motive