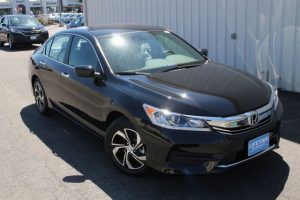 Honda is a manufacturer that has been at the forefront of the auto industry worldwide. With many options for a 2017 Honda Available in Everett, the Japanese auto maker continues to impress. This year, choices include a new take on the bestselling Civic compact in the form of a hatchback; the Ridgeline, which offers unique features that set it apart from other pickups; and the consistent favorite, the Honda Accord.
Impressive 2017 Honda Ridgeline
This 2017 Honda available in Everett already stands apart from other pickup trucks with its sleek, swept-back lines and decidedly "Honda" front fascia. Featuring a roomy cabin, a powerful engine, and many technology features that can help improve efficiency.
The first way the Honda Ridgeline stands out from other trucks is its unibody construction. This helps give it more carlike handling, but not at the cost of its capability. The Ridgeline's cargo bed is 64.0 inches, and includes innovative features that include a bed-mounted speaker and an in-bed waterproof compartment that can be used either for secure storage, or even as a cooler (a drain plug makes it easy to get rid of moisture). The Ridgeline uses one engine: a 3.5-liter V6, paired to a six-speed automatic transmission. 280 horsepower and 262 lb-ft of torque give it plenty of capability. The Ridgeline is offered in either Front Wheel Drive or All Wheel Drive.
2017 Honda Civic Hatchback Available in Everett
While the Ridgeline is all about utility and work, this 2017 Honda Available in Everett is better for people who don't need as much car, but still enjoy options and versatility. The newest iteration of one of the most favored compacts on the US market, the Civic comes with five trim levels and several options. All of the Civic Hatchback's trims get a 1.5-liter turbo four, making 174 horsepower (180 horsepower if you opt for the Sport or Sport Touring trims) and 162 lb-ft of torque.
Equipment we can expect from the Civic Hatchback is similar to what is found on the current, tenth-generation Civic including Apple CarPlay, the Honda Sensing suite of safety technology, and LED headlights.
Are you thinking of buying a 2017 Honda Available in Everett? Klein Honda helps you value your current trade in, and sets you up with a deal that will save you money on an excellent new car. Call us today at 888-657-2544 or contact us through our website for more information.
© Copyright Content Motive, 2016.
All Rights Reserved. | Content marketing by Content Motive