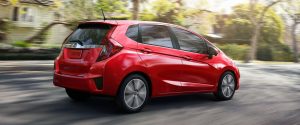 The Honda Fit has long had a reputation for being a solid, well-equipped subcompact car; the 2017 Honda Fit Available in Everett is the latest iteration of the Japanese automaker's winning subcompact formula. With memorable styling and one of the best option arrays found in its class, the Fit continues to impress.
Style of the 2017 Honda Fit
No matter how compact your car, you want to make an impression with it. The Honda Fit does just that, thanks to its sleek body lines that help give its hatchback body a sporty, streamlined look. The Fit is unmistakable from any angle, and options of LED brake lights, chrome trim, and a rear spoiler help finish off the look.
In addition to helping with its aerodynamic capabilities, the 2017 Honda Fit Available in Everett provides plenty of room for all important items. Its wide stance helps to contribute to its surprisingly roomy cargo and passenger capacity. With over 93 cubic feet of room for passengers and up to 52 cubic feet for cargo, it's easy to take whatever you need on your trip with your Fit. The second-row magic seat is innovative and can not only fold down, but can have its seat fold upwards in order to accommodate tall items.
The 2017 Fit is available in eight different colors, and options for accessories include a special sport grille, a moonroof visor, and more.
Tech in the 2017 Honda Fit in Everett
The 2017 Honda Fit Available in Everett comes with tech features to help you make the most of your Fit experience. Navigation, Push Button Start, Honda Lane Watch, connected audio, and more are all available. A multi-angle rear-view camera offers three different views (normal, top-down, and wide), and makes it easy to check your surroundings when you back out, while the Honda LaneWatch system uses a small camera under the rearview mirror to display what is happening in the lane next to you when you're getting ready to turn.
The 7-inch display also includes connectivity for USB and HDMI ports, making it easy to play any sort of media that you may need on your display screen.
For more about the 2017 Honda Fit in Everett, contact Klein Honda at 877-856-2475. Our sales representatives can help you get deals on new or used Honda vehicles, as well as finding you the best prices for service and accessories. Let us help you with your next Honda purchase. We proudly serve the surrounding locations as well.
© Copyright Content Motive, 2016.
All Rights Reserved. | Article by Content Motive