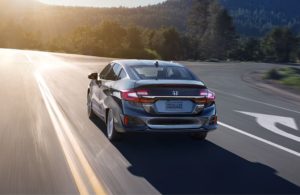 With hybrid and electric versions of many of their most popular cars, such as the Accord Hybrid, Honda is making strides within the green markets with Environmental 2018 Honda Vehicles in Everett. Honda heralds the start of a new, environmentally-friendlier future.
2018 Honda Environmental Vehicle Performance
Depending on your means and preferences, you can choose what model of these new Environmental 2018 Honda Vehicles in Everett you want for your garage. For anyone who wants to go all-electric, the Honda Clarity EV uses an electric motor with 161-horsepower and 221 lb-ft of torque. The 2018 Honda Clarity EV has three standard way to charge: DC Fast Charging is available at many EV stations, and can get your car up to 80% charge in just 30 minutes. If you still need speed but want to reduce your costs at the charging station, Level 2 charging gets your battery ready to go in just 3.5 hours anywhere with a 240-volt charger; if you have one installed both in your home and in your office, then you're all set! Level 1 charging can use any 120-volt wall power outlet, and can get you charged up in just 19 hours. With over 36,000 EV charging stations throughout the United States, and with the HondaLink app, it's easy to find what you need.
The Honda Clarity Plug-in Hybrid is for those who are looking for Environmental 2018 Honda Vehicles in Everett, but don't necessarily want to switch all the way from gas-power just yet. Buyers get all the benefits of an electric vehicle, but with the freedom of a hybrid. You'll have the same option of charging stations as the EV version, but if you need to go long distances, your Honda will switch over to gas-powered as needed.
Model Options of Environmental 2018 Honda in Everett
There are many benefits to a hydrogen-powered car; it has more range, fast refueling, and, since it only uses water, it has no emissions. With twenty years put into developing the 2018 Clarity Fuel Cell vehicle, Honda has ensured that the car is safe, efficient, and something that could potentially pave the way for more sustainable driving practices.
The Honda Clarity Fuel Cell received an EPA rating of over 300 miles between refills, which is great for both commuters and people looking for a trip. Hydrogen fuel stations are, like charging stations, springing up more as automakers continue to work on the technology.
If you're considering Environmental 2018 Honda Vehicles in Everett, now might be the time. Get in touch with Klein Honda of Everett for more information on green vehicles, rebates, and more.
© Copyright Content Motive, 2018.
All Rights Reserved. | Written by Content Motive