EVERETT, Wash., (January 27, 2014) – Continuing with its proudest annual tradition, Klein Honda will once again celebrate its anniversary by supporting the American Red Cross mission with a little help from its customers.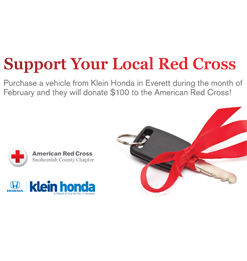 Dealer principle Steve Klein announced today that Klein Honda will donate $100 to the Snohomish County Chapter of the Red Cross for every new and used car sold throughout the month of February, during which the dealership will celebrate its 38th anniversary. The funds donated assist local families affected by disasters ranging from house fires to floods and other large-scale emergency events.
"Red Cross is pleased that Steve Klein and the Klein family continue to be longtime sponsors of this promotion," said Chuck Morrison, Red Cross Regional Executive. "We responded to an average of over 100 local disasters annually and recently responded to 20 disasters affecting 72 Snohomish County families in December alone, providing food, clothing, shelter, rent and other funding for those who lost their homes and their possessions. Without this gift from Klein Honda, we'd be challenged to provide the level of service our community knows and expects."
Steve Klein added, "Our Klein Honda team is pleased to have a strong partnership with the Red Cross. As our logo says, we want to be a 'friend of the family.' To us, that means supporting Red Cross's activities in Snohomish County. We're pleased also that we're able to make the same donation for each new and used car sold. That means that no matter what car you purchase from us in February, you'll be helping us to support Red Cross's mission."
Last February, Klein Honda sold 169 new and used vehicles, allowing the oldest family-owned and operated Honda dealership in the Seattle metro area to donate $16,900 to the Red Cross. In fact, February wasn't the only time last year that the dealership supported the organization. All of the proceeds from Klein's annual charity golf tournament in September also went to the Red Cross. The dealership plans to hold another golf tournament, its sixth annual, in 2014.
"We're excited about the future of the automobile business, the future of Honda automobiles and the future of Snohomish County," Klein said. "We want to invite everyone to visit us during February to see why. Or simply go online at www.kleinhonda.com to look for yourself."
About Klein Honda:
Located at 10611 Evergreen Way in Everett, Klein Honda has been family-owned and operated since it opened its doors in 1976. Throughout its 38-year history, family values and great employees have allowed Klein Honda to become American Honda Motor Company's No. 1 certified dealership in the Northwest. The dealership has also earned Honda Environmental Leadership Award. Klein Honda serves Snohomish County, Marysville and the Seattle metro area. For more information, please visit http://www.kleinhonda.com.