Funds donated by Seattle metro area Honda dealership will primarily go toward assisting those affected by the recent mudslide disaster.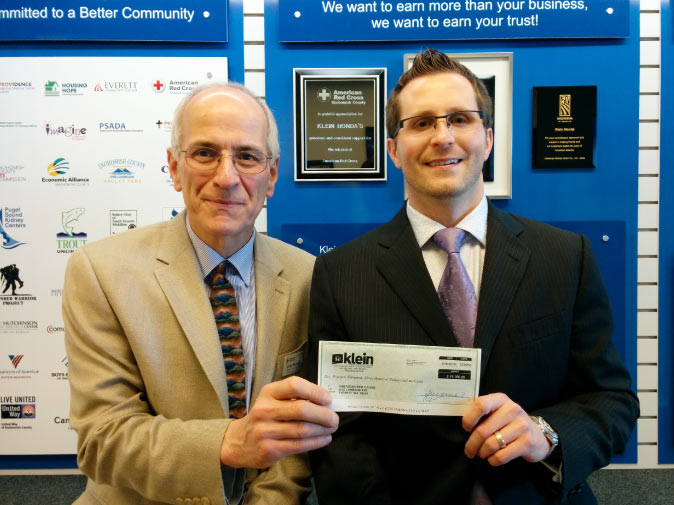 EVERETT, Wash., (March 26, 2013) – Klein Honda raised $19,300 for the Snohomish County Chapter of the American Red Cross and recently presented the organization with a check for the donation as part of its annual fundraising initiative. The funds donated will go toward assisting local families affected by the recent mudslide disaster that occurred along State Route 530.
"Our hearts are with those affected by this unspeakable tragedy," said Rory Klein, Vice President of Klein Honda. "We are fully behind the Red Cross and its work, especially in this time of need. We are thankful for the community for helping us provide the funds that will go to help others."
In honor of its 38th anniversary in February, Klein Honda set aside $100 for every new and used vehicle sold, which would then be donated to the Snohomish County Chapter of the American Red Cross. The annual tradition raised $16,900 in 2013.
Klein Honda, the oldest family-owned and operated Honda dealership in the Seattle metro area, has also supported the local Red Cross with its annual charity golf tournament. This year's event, which will be the sixth edition, will be held in September at Walter Hall Golf Course with all the proceeds benefiting the Red Cross.
About Klein Honda:
Located at 10611 Evergreen Way in Everett, Klein Honda has been family-owned and operated since it opened its doors in 1976. Throughout its 38-year history, family values and great employees have allowed Klein Honda to continue to provide great customer service and prices to their customers. The dealership has also earned Honda Environmental Leadership Award. Klein Honda serves Snohomish County, Marysville and the Seattle metro area. For more information, please visit http://www.kleinhonda.com.
Related Links:
http://www.kleinhonda.com
http://www.facebook.com/KleinHonda