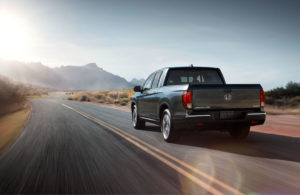 Are you looking for a versatile pickup truck? The New 2018 Ridgeline Available near Marysville is one of your best choices if you don't need anything bigger than a mid-size pickup. What it lacks in sheer hauling power, the Ridgeline makes up for in its collection of unique features that you may not find in other trucks in its segment.
Basics of the 2018 Honda Ridgeline near Marysville
One of the more unusual things (among many) of the New 2018 Ridgeline Available near Marysville is its unibody construction. Unlike most trucks, which are made body-on-frame, the Ridgeline's body panels and chassis are fused. This gives a more car-like ride and better fuel economy, giving it a somewhat softer feeling.
The Ridgeline comes with a 280-horsepower, 3.5 liter V6 engine, with the option of all-wheel drive. AWD models can tow up to 5,000 pounds thanks in part to their standard integrated tow hitch with seven-pin connector. The truck bed can carry up to 33.9 cubic feet of space, but thanks to one of the Ridgeline's many innovative features—its in-bed trunk—it can add another 7.3 cubic feet.
Innovation in the 2018 Honda Ridgeline
The New 2018 Ridgeline Available near Marysville sets itself apart in many ways. The aforementioned truck bed also has a drain in it, allowing it to be used as a cooler for parties, and can be locked for added security. The liftgate can either swing down like a normal truck's gate, or can swing outwards like a door, allowing for easier loading. If you need to power some heavy-duty tools, an available 150w/400w truck bed outlet is a good option. And an industry-first in-bed speaker allows the Ridgeline to set up its own party atmosphere.
The unique features don't end there, either. The 2018 Ridgeline available near Marysville boasts Honda's patented Magic Seat system in the cabin, meaning that the seat bottoms can flip upwards in addition to having the backs fold down, resulting in an interior cargo space that can accommodate tall objects as well as long objects.
The Ridgeline occupies a space and performance that many people will appreciate: as a versatile pickup that doesn't sacrifice comfort. For more information on the 2018 Honda Ridgeline, or any other new Honda vehicle, contact Klein Honda of Everett. We serve Edmonds, Lynnwood, Marysville, and more with financing for used and new vehicles, as well as with excellent repair service. Call us today.
© Copyright Content Motive, 2018.
All Rights Reserved. | Article by Content Motive