Tag:
highway
By Civic, Civic Hybrid, Compact, Honda, Honda Blogger, Honda Dealer, Honda News, Hybrid, Make, Model, News & Events
in
As gas prices hover around $4 per gallon in many cities, small cars are in high demand as fuel-efficiency becomes a top priority. Not only does the latest crop of small nearly reach or exceed 40 miles per gallon on the highway, but these cars aren't the "ecoboxes" of years ago.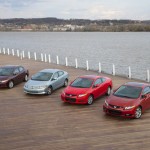 The all-new, ninth-generation 2012 Honda Civic may carry-over many cues from the previous generation. However, the new model differs significantly as it offers more refinement and even better fuel-efficiency.