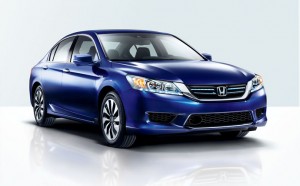 The Accord has been going strong for four decades, maintaining top place in auto buyers' choices for both reliability and stylishness. The 2015 Honda Accord Hybrid Available in Everett continues this trend with the added bonus of astounding fuel economy. While it's only available as a sedan, its offerings might sway even the most coupe-devout.
Honda Accord Hybrid Power
The Honda Accord has always been a knockout for fuel economy, with even some of its most fuel-hungry engines outstripping the competition. The addition of a hybrid model sends the Accord's fuel economy abilities to stellar levels, without losing much horsepower. The 2.0-liter inline-4 combines with a 124-kW permanent-magnet electric motor, good for a total of 196 hp.
The 2015 Honda Accord Hybrid Available in Everett doesn't just stand out because it saves money, though; Honda is one of the most dominant auto manufacturers in the United States, and it goes all out with the Accord. When you drive your new 2015 Accord car down the road, any passerby will know the model for what it is. In addition to the car's own styling, the 2015 version has a sleek, swooping silhouette to it and lines that give it a classic look that will still look attractive ten or fifteen years on. The Accord is a car built to last, and looks the part, as well.
Honda Luxury Features
The 2015 Honda Accord Hybrid Available in Everett comes with a number of available luxurious features as standard, including an 8-inch color display, rearview camera, dual-zone climate control, Bluetooth and USB connectivity, and more. Leather seats, improved linking remote systems, LED headlights, and other accessories are available by moving up trims.
Klein Honda of is the dealer that will find you the best price and financing options on a 2015 Honda Accord Hybrid Available in Everett. Our representatives will help you find the trim that you want, and the price that you'll love. Trust our friendly Everett Honda representatives to get you the absolute best new Honda around. Use our website to contact us, or call us at 855-283-0980 or simply visit our dealership directly, at 10611 Evergreen Way, in Everett. We're your local trusted Honda dealer, and we want to put the keys to a great Honda in your hands!