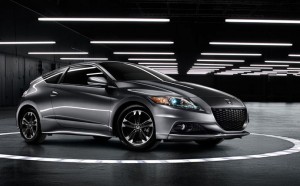 The 2015 Honda CR-Z Available in Everett is a credit to the "hybrid" name, bringing sharp, sporty driving dynamics to a type of car not known for it. A specialized hybrid powertrain combines with a solid body to create a responsive vehicle that's quick to accelerate and takes any curve with ease. For a conscientious car owner who doesn't want to give up the thrill of tight handling and speedy action, the 2015 Honda CR-Z Available in Everett is the best option.
The CR-Z has Zoom
The new Honda CR-Z is definitely performance-oriented, using its 130 horsepower to its fullest with a broad torque curve that lets it overtake slower vehicles and change directions with ease. Its main gearbox is a 6-speed manual (as one would definitely want in any sports car), but can also be swapped out for a Continuously Variable Transmission, or CVT, which does all the work for you like an automatic and is known to save even more money in terms of fuel economy.
The standard model of the 2015 Honda CR-Z Available in Everett is loaded with features that are considered bonus features on many other competitors. These include a rearview camera (with guidelines), Bluetooth connectivity, a multi-informational display, and a six-speaker audio setup.
All the CR-Z Features Possible
Safety can be found in the form of the six airbags, active head restraints, and state-of-the-art electronic stability controls. If you want a bonus to your already souped-up vehicle, then the EX trip gives you xenon headlights and a 7-speaker audio system, complete with sub woofer. A Plus Sport button is made for those thrill seekers that want an extra burst of power in their Honda CR-Z, transferring a boost of power to the car.
The 2015 Honda CR-Z Available in Everett is a shoe-in for a favorite car model when it comes to combining economy and exciting driving dynamics. This 2-seat looks slick and aerodynamic on the road, and will catch the attention of people outside the car and make a lasting impression on the people within.
Klein Honda is a premium seller of Honda vehicles in Everett Lynnwood, Mill Creek, and more. Located in Everett, Klein Honda has special offers for new, used, and one-owner cars that can't be beat. Call us at 855-283-0980 to tour our lot full of sedans, SUVs, and hybrid vehicles, and even test-drive some. Klein Honda is your most reliable dealer with the best prices and friendliest agents. Call today!