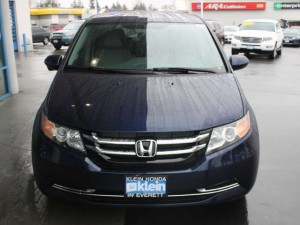 A favorite 2015 Honda Dealer in Everett, Klein Honda is the best place to find deals on brand-new Honda models, including the Fit, Odyssey, and the ever-popular Civic and Accord models. Honda has come out with several excellent brand-new models this year, and Klein Honda has them all. We are a well renowned dealer that offers top customer service to make sure you get the best service and deal on your new Honda
2015 Honda Accord
A reliable staple for over four decades, the Honda Accord is a top seller that is easy and smooth to operate, has a high resale rate, and a versatility of trim choices that caters to both people who are looking for an economical car and people hunting for a high-powered engine. The 2015 Honda Accord comes with one of three engines: a 2.4-liter inline-4, a 3.5-liter V6 with an impressive 278 horsepower, or a hybrid model with a 2.0-liter inline-4 and 124 kW electric motor, rated at 196 total horsepower. The Accord is the car everyone and anyone and is an ideal choice when you visit a 2015 Honda Dealer in Everett.
2015 Honda Odyssey
The 2015 Honda Odyssey is a favorite for large families and anyone who wants to transport passengers, and has a number of interior design options that make it a perfect choice for transport vehicles. An economical alternate to a fuel-hungry SUV, the Odyssey includes a number of safety options that make it stand out among the rest. These safety features include lane-departure warning, as well as multiple airbags and a design that gives the Odyssey some of the highest ratings in the area. Ask a 2015 Honda Dealer in Everett for a full tour of what the Odyssey has to offer.
2015 Honda Fit
An economical car bursting with personality, the Honda Fit might be perfect if you want something that's affordable, responsive, and economical. Though it's smaller, the Honda Fit doesn't sacrifice legroom and offers the full spectrum of connectivity and infotainment features inside. Its CVT (continuously variable transmission) improves economy further. The Honda Fit is an excellent choice for a car that has it all, on a budget.
Klein Honda is a favored 2015 Honda Dealer in Everett, Lynnwood, Bothell, and more. Our sales agents can offer you the best financing opportunities on several first-class Honda models, so call our sales line as soon as possible to schedule an appointment to view our stock. Klein Honda does it best!