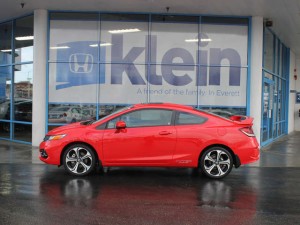 Honda has thoroughly revised the compact sedan that we knew as the Honda Civic and now it is more sporty and sleek. Klein Honda in Everett is happy to present the 2015 Honda Civic Available in Everett. The vehicle has a sleek and futuristic shape on the exterior and has added an updated lower bumper with chrome accents, a black honeycomb mesh grille and clear-lens corner lights. The sculpted hood addresses the complaints of similarity to previous model years as well. As you can see, for all rights and purposes, the Civic is a brand new car. From the rear, you can see the Civic has received a new bumper as well.
The 2015 Civic Performance Specs
The power-train of the 2015 Honda Civic Available in Everett consists of a SOHC 1.8-liter four-cylinder engine which is good for 143 horsepower and 129 pounds per feet of torque. The entry level Civic engine is mated to a five-speed manual transmission, though there is another option for a continuously variable transmission. The CVT is not only more refined in terms of shifts but it is an advantage when it comes to mileage.
The 2015 Civic comes available with a rating of 31 miles to the gallon in the city and 35 on the highway. The handling of the 2015 Civic is solid and reliable and the experience while travelling is quieter and pleasant due to the sound proof panels which have been incorporated as part of the new model year revisions.
Interior of the 2015 Civic
As for the cabin, a lot more attention has been lavished than in the previous models. There are more features and toys this time with a healthy amount of soft touch trim and upscale plastics. The 2015 Honda Civic Available in Everett also comes available with a top of the line infotainment system which is at the center of the space age, multi tier dash. This integrates the navigation and entertainment settings of the vehicle and is represented by a seven inch touch-screen which allows the passengers to control the audio with tablet like pinch and tap gestures.
If you would like to come check out our vehicles, please visit our dealer at Klein Honda in Everett.If you have any questions you can call us at 855-283-0980 or send us a question from our website. We are always happy to answer any questions you may have! We are proud to serve Everett and some of the following areas: Marysville, Mill creek, North Creek, Monroe and Edmonds.