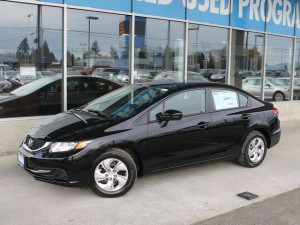 Lease a 2015 Honda in Everett if you want a blend of style, reliability, and the best in automotive technology today. Klein Honda of Everett has an array of quality Honda models; whether you're looking for a stylish Accord, the compact CR-V, or the all-rounder Civic, you can be sure that you get the best of all worlds when you lease a Honda. Visit Klein Honda to find out more about your Honda leasing options.
Known for its model versatility, the Honda Civic has stayed at the top of several markets, simply because it does it all. With pleasurable handling in the form of responsive steering and reactive brakes, the Honda Civic occupies a solid niche when it comes to driving. The Continuously Variable Automatic Transmission on certain models is one of the best in the industry, and will provide easy shifts. If you choose to Lease a 2015 Honda in Everett at a higher trim, you can look forward to features such as the LaneWatch blind spot display, which can help monitor those hazard areas for when you're trying to maneuver.
A crossover Sports Utility Vehicle with excellent fuel economy and a surprising amount of space, the 2015 Honda CR-V is a good pick if you want to Lease a 2015 Honda in Everett that exemplifies the "utility" aspect. While you would need to discuss mileage allowances within your contract and consider how much you'll be using it, the CR-V is a canny, versatile model that allows you to have excellent handling combined with comfort and interior space. It's comfortable and efficiently laid out, and is also one of the safest models in Honda's lineup. In fact, the CR-V earned five-star marks across the board in last year's National Highway Traffic Safety Administration testing. It's hard to find a car with a more remarkable history.
The decision to Lease a 2015 Honda in Everett might be one of the best you've made, considering the brand's long list of successes and customer satisfaction. You can visit Klein Honda online, or call us at 855-283-0980 to discuss your leasing options and our inventory models. Talk to one of our representatives to get on your way with the best car you'll drive for the next few years.