American Honda Motor Co. Representatives Stop by Dealership to Recognize Klein Honda with Environmental Leadership Award
Reduction in energy use, conservation of water, and recycling are at core of "green dealer" effort for Seattle metro area Honda dealership to earn recognition.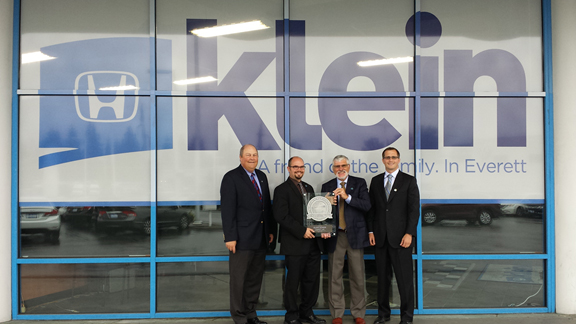 EVERETT, Wash. (August 8, 2013) – Representatives from American Honda Motor Co. stopped by Klein Honda last week to present the dealership with the Honda Environmental Leadership Award it earned earlier this year. The award recognizes Klein Honda, the oldest family-owned dealership in the Seattle metro area, for doing its part in helping the company's effort to reduce the environmental impact of Honda dealerships in communities around the nation. Klein Honda was among the first Honda automobile dealers to receive the award.
"We are very excited to receive this award on behalf of Honda's global effort to help preserve and protect the environment," said Steven Klein, owner and president of Klein Honda. "It was especially an honor for the team to be able to receive this award directly from and host representatives from American Honda."
Paul Freyermuth, assistant manager of owner loyalty and business improvement, and Ryan Harty, manager of environmental business development, from American Honda Motor Co. were on hand at the Klein Honda showroom in Everett, Wash. The dealership earned the award for achieving specific environmental targets, which include reducing total energy use at the dealership by at least 10 percent, developing a water conservation plan, and implementing Honda's recycling program.
Not only did Klein Honda hit the benchmarks needed for the Honda Environmental Leadership Award, the dealership actually surpassed one of Honda's primary benchmarks by reducing total energy use by 12 percent – two full percentage points higher than the requirement.
"The Klein Honda family recognizes the value and importance of taking a leadership role in preserving and protecting our environment," said Steven Klein. "All our actions were completely voluntary."
Honda introduced its new voluntary "green dealer" program to its U.S. dealers in the fall of 2011. The company uses a third-party evaluator to conduct environmental audits of participating dealers and recommend strategies for reducing their energy use.
About Klein Honda:
Located at 10611 Evergreen Way in Everett, Klein Honda has been family-owned and operated since it opened its doors in 1976. Throughout its 37-year history, family values and great employees have allowed Klein Honda to become American Honda Motor Company's No. 1 certified dealership in the Northwest. Klein Honda serves Snohomish County, Marysville and the Seattle metro area.
Related Links:
http://www.kleinhonda.com
http://www.facebook.com/KleinHonda