Klein Honda Employee Honored as Top Honda Salesperson
Salesperson at Seattle Metro area Honda dealership is recognized by manufacturer as the top sales consultant in his zone and one of the best in the nation.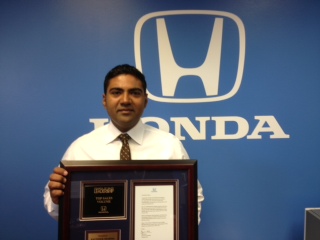 Everett, Washington. – Klein Honda in Everett sales consultant Ravinder Sharma is in rare company with 32 other Honda employees throughout the nation after earning the status as a top volume sales consultant for the Council of Sales Leadership program. Sharma, known as Raj to those around him, not only beat out more than 14,000 Honda sales consultants nationwide for the prestigious honor, he was also the top performer in his zone for Honda.
"We're very proud of Raj and his prestigious accomplishment," said Steve Klein, Owner of Klein Honda. "He is the perfect example of what the Klein Honda family strives for on a daily basis – hard work, dedication and a commitment to customer satisfaction. That's why customers like working with Raj."
American Honda bestows the Council of Sales Leadership program recognition annually to sales consultants who excel in product knowledge, selling vehicles and understanding customers' needs and wants. In a letter addressed to him from John Mendel, Executive Vice President of Automobile Sales for American Honda, Sharma was recognized for reaching an "elite level" to which his peers aspire.
This isn't the first time Sharma has received recognition from American Honda. In 2010, just one year after joining the Klein Honda family, he was awarded Silver Level in Council of Sale Leadership program, just a notch below his current recognition. However, by the very next year, he was already being recognized Salesman of the Year.
Sharma, who was born and raised in Mumbai, India, moved to the U.S. in 1997. He initially settled down in New York and Connecticut, working in management in the fast food business for nearly 12 years. He moved to Washington State in 2008 and soon after joined the Klein Honda family, where he says he's fallen in love with selling cars and making customers happy.
Sharma currently resides in Marysville, WA with his wife, son, and two daughters. In his spare time, he enjoys running with his dog, watching movies, playing Xbox and hanging out with his family.
About Klein Honda:
Located at 10611 Evergreen Way in Everett, Klein Honda has been family-owned and operated since it opened its doors in 1976. Throughout its 37-year history, family values and great employees have allowed Klein Honda to become American Honda Motor Company's No. 1 certified dealership in the Seattle metro area that includes Lynnwood and Marysville. Klein Honda, the oldest family-owned and operated Honda dealership in the Seattle metro area, serves Snohomish County, which included Lynnwood and Marysville.
Related Links:
http://www.kleinhonda.com
http://www.facebook.com/KleinHonda