EVERETT, Wash. – March 1, 2013 – Klein Honda in Everett, the oldest family owned and operated Honda dealership in the Seattle metro area, has seen three major upgrades since opening its doors in 1976. This March, the dealership will see its fourth and will hold a sales event in order to thank customers for their understanding and cooperation during construction.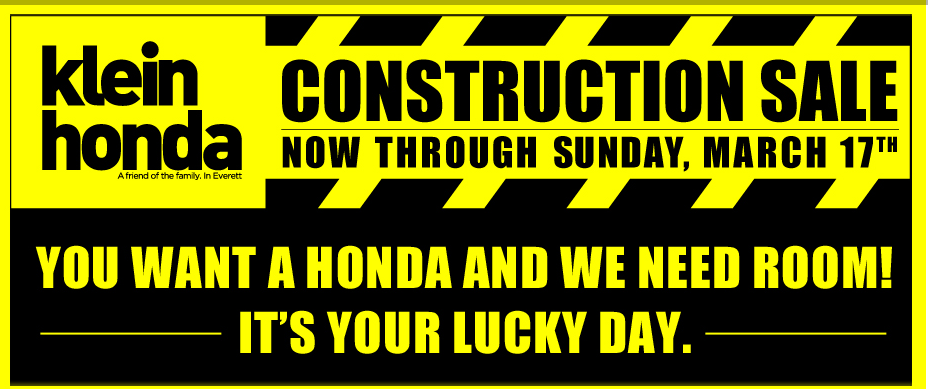 "We're very excited for the new additions to our great facilities, but we understand the inconvenience construction causes," said Tom Hunt, general manager of Klein Honda. "This sale not only honors our new store upgrades, but thanks our customers for their patience during our upgrades."
Klein Honda's latest upgrade will include the addition of two express service lifts, for a total of 23 in the service center. An additional alignment rack and an alignment check machine will also be added.
These upgrades will help customers move even faster through Klein Honda's service lane. But if a customer does have to wait, the dealership will also be adding a dedicated express service customer waiting lounge, along with a dedicated express service restroom. The express service lounge will include a television, customer wireless Internet access, and offer complimentary tea and coffee to our customers. Additionally, every customer will receive a complimentary alignment check and multipoint inspection with every service completed at our express service lanes.
Klein Honda's service center upgrades will be completed by sometime in April. The new Honda construction sale will run through March 17. Klein Honda has over 300 new Hondas to choose from that are either in stock on order. Our theme is "You want a Honda and we need room! It's your lucky day." Klein Honda is still offering a complimentary 2 year unlimited mileage scheduled maintenance program on every new Honda sold. Please take advantage of this unique situation to save on a new Honda.
About Klein Honda:
Located at 10611 Evergreen Way in Everett, Klein Honda has been family owned and operated since it opened its doors in 1976. Throughout its 37-year history, family values and great employees have allowed Klein Honda to become American Honda Motor Company's No. 1 certified dealership in the Northwest. Klein Honda serves Snohomish County in the Everett, Marysville and Seattle metro areas.
Related Links:
http://www.kleinhonda.com
http://www.facebook.com/KleinHonda