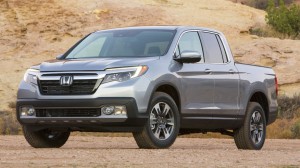 It's that time of year again with new models starting to come out with new features, designs, and performance. New 2017 Honda Models Arriving Soon in Everett range from the all-new Honda Ridgeline, a light but tough work truck, to the Civic Hatchback which allows the bestselling compact to offer something to even more people.
New 2017 Honda Civic Hatchback
The Honda Civic has already been sold as a sedan and as a coupe, but now the Civic Hatchback joins the family, as well. Arguably one of the most versatile compact New 2017 Honda Models Arriving Soon in Everett, the 2017 Civic Hatchback will offer people who prefer an urban-friendly and fuel-friendly compact car the ability to carry more with them. The 2017 Civic will likely use a 174 horsepower, 1.5L turbocharged four-cylinder engine, giving it enough power to smoothly accelerate to highway speeds. Buyers will be able to choose between a six-speed automatic or a continuously variable transmission.
2017 Honda Ridgeline Arriving Soon in Everett
The list of New 2017 Honda Models Arriving Soon in Everett includes the Honda Ridgeline, the mid-size pickup truck that puts its competitors to the test with a generous selection of features. A smooth ride makes work even easier, while its strong engine and well-engineered frame allows it to tow up to 5,000 pounds when equipped with optional all-wheel drive (front-wheel drive models are rated at 3,500 pounds). The Ridgeline uses a 3.5L V6 engine with 280 horsepower and 262 lb.-ft. of torque, combined with a six-speed automatic transmission.
The Ridgeline has plenty of places to store gear, cargo, and other important items, from a hidden storage cavity under the flip-up rear seats to the accommodating truck bed, the Ridgeline offers plenty of places to keep your most important items. The Ridgeline also offers an exciting feature that sets it apart: six impact-proof, waterpoof "speaker-magnets", which can turn the bed of the truck into an entertainment system. It's a unique feature that calls back to the Ridgeline's user-friendliness in addition to its work capability.
More information on New 2017 Honda Models Arriving Soon in Everett, as well as available options for financing, can be found from Klein Honda of Everett. Visit us to get more information on financing a new or used Honda vehicle, or browse our online inventory to see what we have to offer. We also offer repair and maintenance on Honda vehicles. Call us at 855-283-0980 to talk to one of our representatives.
© Copyright Content Motive, 2016.
All Rights Reserved. | Written by Content Motive