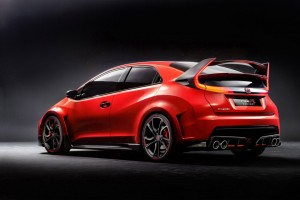 If you want something with flair and style to show off on the road then you should take a look at Revealing the Honda Civic Type R. This is a Japanese hot hatch if there ever was one and it is based on the European model. The vehicle is designed to preview the regular production Type R and the show car boasts of an aggressive body kit consisting of a front splitter as well as side skirts and fender flares on all of the four corners, quad exhaust pipes and a large rear spoiler. This is going to be a head turner definitely considering it has all of the elements for a hot sporty hatchback.
The Civic Type R engine
Under the hood, the Honda comes available with a 2.0-liter turbocharged four-cylinder i-VTEC engine good for an astounding 280 horsepower which is apparently a huge increase overall. The power is sent to the front wheels of the vehicles and the engine is linked to a six-speed manual transmission. It only comes available in a manual transmission for now. A different version may be released sometime down the road.
There is a front suspension setup which is also equipped with two kingpins in order to reduce the torque steer of the system. By Revealing the Honda Civic Type R, we must tell you this car comes with a number of power-train upgrades. The vehicle comes available with additional steering configurations like an R button on the steering which transforms the Civic from the comfortable city car to a ready to race hot hatch.
Interior of the Honda Civic Type R
The story continues inside with a number of embellishments if not anything else, comfort. The Honda avails some of the best material quality in its class with sufficient space at the front as well as the rear which is rear for its class. Our dealer also Reveals the Honda Civic Type R has some of the best tech packages in the market including a top of the line infotainment system as well as safety systems.
Revealing the Honda Civic Type R is something everyone looks forward to. If you would like to come check out our vehicles, please visit our dealer at Klein Honda on Evergreen Way in Everett. You can also give us a call if you have any questions at 855-283-0980. We also proudly serve surrounding areas including Kirkland, Lakewood, Kenmore, and Lynnwood.